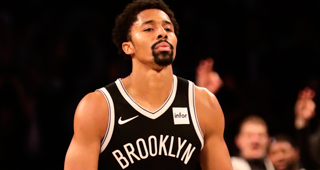 The Orlando Magic and Detroit Pistons had interest in trading for Spencer Dinwiddie, league sources told Ian Begley of SNY.
Begley adds that teams around the league think highly of Dinwiddie, who is on a three-year, $34.4 million deal. 
Sean Marks recently stated that he would look to Kyrie Irving and Kevin Durant for advice on how to shape the Nets' roster moving forward. 
"I love that our players have ownership in this. (Kyrie) and Kevin (Durant) and the rest of guys that have all signed on here and are a part of this, they hope to build this, hope to build something sustainable and something not only they can be proud of but that's long-lasting for the borough. So, I always take a select handful of players in terms of (talking to them about) how we continue to build this. We've done that from Day 1, gathered their thoughts," said Marks in an interview on WFAN's Benigno and Roberts Show earlier this week.
Several NBA executives expect the Nets to be active on the trade market this summer.