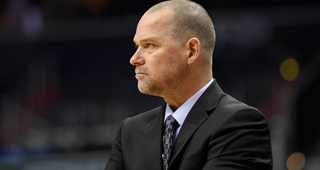 Michael Malone will approach the NBA about the way fouls are being officiated in the Western Conference Finals.
"They went to the foul line 35 times," Malone said after the Lakers took a 3-1 lead over the Denver Nuggets. "I think I'm going to have to go through the proper channels like they did to see if we can figure out how we can get some more free throws."
Frank Vogel said the Lakers "were dealing with the fouls through the proper channels with the league" after LeBron James shot just 10 free throws through the first three games of the series.
James and Anthony Davis each attempted 14 free throws in Game 4.
Asked if the Lakers' tactic of going to the league about foul calls worked, Malone said he didn't know.
"I just know they went 35 [times] and we went 23," Malone said. "I think late in the game Jamal Murray attacked the basket a few times where it appeared to be contact. We'll watch the film and send our clips in. We'll reach out to the NBA and kind of make our points noted. Whether them going through the proper channels affected tonight or not, I have no idea. The NBA does a great job of listening. You hope that next game maybe some of those fouls are called."