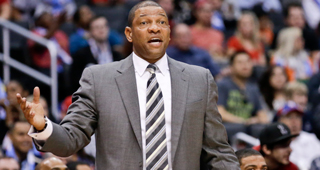 The Los Angeles Clippers have parted ways with Doc Rivers as head coach.
Rivers joined the Clippers during the 2013 offseason. During the subsequent offseason after Steve Ballmer took over as owner, Rivers assumed final say in all basketball matters and signed a new five-year deal.
In 2017, Rivers relinquished his duties as president of basketball operations.
The Clippers were eliminated in the second round of the playoffs by the Denver Nuggets after blowing a 3-1 lead. The Clippers had clear title aspirations after acquiring Kawhi Leonard and Paul George last offseason.
Rivers released the following statement on Twitter:
"Thank you Clipper nation for allowing me to be your coach and for all your support in helping making this a winning franchise. When I took this job, my goals were to make this a winning basketball program, a free agent destination, and bring a championship to this organization. While I was able to accomplish most of my goals, I won't be able to see them all through. Thought it was a disappointing ending to our season, you are right there and I know what this team is capable of accomplishing with your support. Thank you to all the players, coaches, and staff for helping us get here. Most importantly, thank you to the fans. We went through a lot, and I am grateful for my time here."