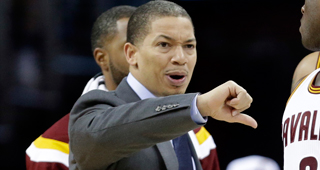 Ty Lue's five-year deal with the Los Angeles Clippers is believed to be worth around $7 million per season, sources told Jovan Buha and Joe Vardon of The Athletic.
The Clippers were impressed with Lue and one other candidate, but considered Lue to be an "elite tactician."
Paul George and Kawhi Leonard were consulted on the hire, and both players were on board with Lue's hiring.
Lue's plans to improve the team include better ball movement, playing at a faster pace, and more experimentation on the defensive end.
Lue also plans on staggering George and Leonard's minutes to test out different role players.
The Clippers want better synergy between the coaching staff and the front office, with Lue open to working with the front office to fill out his coaching staff. 
Chauncey Billups was initially hired to be Lue's lead assistant.