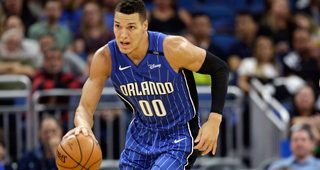 The Golden State Warriors are "unlikely" to trade D'Angelo Russell before the February trade deadline, according to a source that spoke with Sam Amick of The Athletic. 
Another source offered a hard "no" when asked about the Warriors' interest in a trade of Russell to the Orlando Magic for Aaron Gordon.
Russell is averaging 23.2 points, six assists and 3.4 rebounds for the Warriors.
Gordon signed a four-year, $76 million deal in 2018 but has regressed this season. Gordon is also a native of the San Francisco Bay Area.
"There is chatter coming from Orlando," one executive said this week.