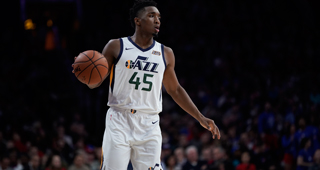 Donovan Mitchell said that the Utah Jazz are only scratching the surface of their potential following their 80-78 loss to the Denver Nuggets in game 7.
"This isn't the last of it. This is me scratching the surface. I know what I can do, how hard I've worked, how hard this team has worked. This won't be the end of it. That's what's fueling me. This ain't the end. This is just the beginning. I'm ready to go hoop again right now. I think we all are. This is just the beginning," said Mitchell after the game. 
Mitchell finished the game with 22 points and 9 rebounds.
Mitchell added that the manner of the loss, in which Mike Conley missed a last-second three-pointer, will weigh on his mind.
"To be honest, I [was] in shock. That was it. You work so hard to get to a point that we got to, and we were this close. We were down, we came back, and fought and clawed, and to be that close … This will be on my mind for a long time."
Quin Snyder said that the loss was one of the hardest of his career. 
"This game tonight, was one of the toughest losses that I've been involved with. We've gone many levels [with] what this team has been through since we were in Oklahoma City, and the season was stopped. What we went through over a period of months, to have this group come back together here in Orlando, and just to see the competitiveness, the unselfishness, a team that really came together and grew and I wish we would have had a chance to keep playing," said Snyder.
Mitchell agreed with Snyder in discussing how much the team grew during the bubble run.
"We went from being an unsalvageable team about three months ago to this. And I don't think anybody outside of us expected that."