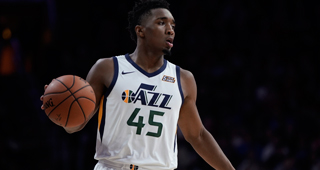 Donovan Mitchell will become eligible for a rookie scale max extension this offseason, which put his participation in the NBA's restart in a more perilous position than most of his peers. Mitchell has yet to make generational money in his career, but a severe injury could have jeopardized what will almost certainly be a five-year, $170 million max deal.
"Once my teammates told me they wanted to play, then I was all in. I couldn't make it all about myself," Mitchell told Chris Haynes of Yahoo! Sports after Game 7.
"There are younger guys who aren't established in this league and needed this time to show their value. It would have been selfish of me to stand in the way of that. I couldn't let my contract get in the way of the bigger picture. I had to rely on God. If I got hurt, it was God's will. But I put my trust in Him and didn't worry about potentially getting injured. That allowed me to go out there and play. My faith was in God."
Mitchell and the Jazz will finalize a max extension when free agency opens in mid-October, sources tell Yahoo! Sports.