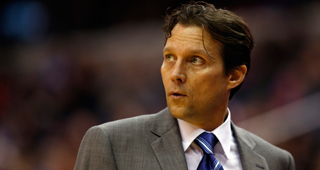 Quin Snyder gave two donations worth $500 each to Burgess Owens, the Republican candidate in Utah's tight 4th Congressional District race.
Snyder has been vocal about his support of the Black Lives Matter movement, and sits on the NBA coaches committee on racial injustice and reform. He kneeled with his team during the national anthem and supported the Jazz as it joined other teams in protest games in the wake of Jacob Blake's police shooting.
Owens has criticized Black Lives Matter, describing them as a "Marxist organization."
"We need to fight for our country against these Marxists and these bullies and cowards that are destroying everything they touch," Owens told Fox News.
The Salt Lake Tribune learned that Snyder and Owens met Feb. 21, when a nonprofit founded by Owens, Second Chance 4 Youth, attended a Jazz game against the Spurs. Later, Owens asked Snyder for a donation, which he delivered twice: one $500 donation on May 3, and another $500 on June 3, according to campaign disclosures.
Both Snyder and the Utah Jazz declined to comment.